THE 1ST INTERNATIONAL CONFERENCE ON COMPUTER SCIENCE AND ARTIFICIAL INTELLIGENCE (ICCSAI) 2021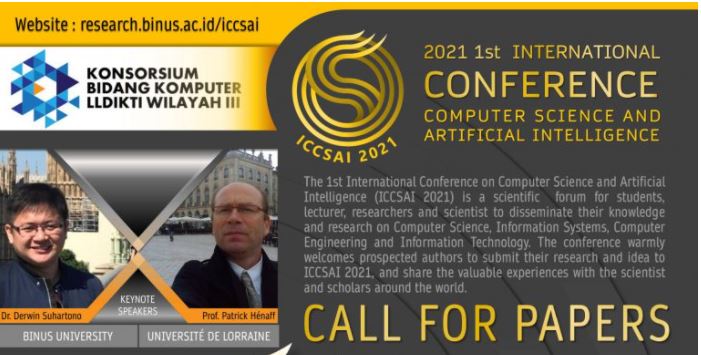 The 1st International Conference on Computer Science and Artificial Intelligence (ICCSAI 2021) is a scientific  forum for students, lecturer, researchers and scientist to disseminate their knowledge and research on Computer Science, Information Systems, Computer Engineering and Information Technology. The conference warmly welcomes prospected authors to submit their research and idea to ICCSAI 2021, and share the valuable experiences with the scientist and scholars around the world.
This conference aims to encourage undergraduate students, postgraduate students, lecturer, researchers, engineers and scientist from all over the world to share and publish their ideas and researches in computer science, computer intelligence and information technology. This activity is one of media to elaborate networking and experience among researchers, engineers and scientist.
For further information, please visit this site: ICCSAI 2021