Dr Suharjito, SSi, MT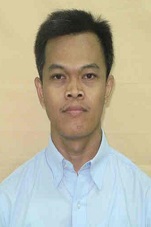 Dr Suharjito currently involve on research of sign language recognition using deep learning especially for Indonesian language (SIBI). He use CNN and RNN to develop model for classifying input videos of Indonesian sign language based on words and sentences. His main expertise are E-Learning, Optimization, Software Engineering, Unified Modeling Language, Artificial Neural Networks, Scheduling
Neural Networks, Evolutionary Computation, Supply Chain Management, Fuzzy Logic etc. To access his current research interest, please visit his Sinta, Google Scholar and Scopus profile.
Area of Expertise: Computer Science, Engineering, Business, Management and Accounting, Decision Sciences, Mathematics, Social Sciences Physics and Astronomy, Environmental Science, Chemical Engineering, Neuroscience
Education History
Doctor of Engineering 
Agro-Industrial Technology
IPB University, Bogor, Indonesia
2011
Magister Teknik (MT) 
Institut Teknologi Sepuluh Nopember, Surabaya, Indonesia
2000
Sarjana Sains (SSi)
Universitas Gadjah Mada, Yogyakarta, Indonesia
1994
Working Experience
Lecturer Specialist (2022 – Now)

Master of Industrial Engineering – BINUS Graduate Program

Bina Nusantara University, Jakarta, Indonesia
Head of Information Technology Under-graduate Program (2019-2022)
Binus Online Learning
Bina Nusantara University, Jakarta, Indonesia
Head of Information Technology Graduate Program (2013-2019)
Binus Graduate Program
Bina Nusantara University, Jakarta, Indonesia

Researcher and Planner IT Application for some areas

(1994 – 2011) 
Badan Pengkajian dan Penerapan Teknologi (BPPT) 
BPPT, Jakarta, Indonesia
Research topic interest 
1. Integration of GIS and optimization method for precision farming of palm oil
2. Decision support system of precision farming for Palm Oil
3. Multi objective Optimization model of Crude palm oil supply chain
4. assessment model of sustainable agriculture for palm oil industry
5. crude palm oil prices forecasting model using deep learning